Bright colored cabinets? Just a little!
As we know; the latest color trends in the kitchen currently go towards more neutral colors. The shades of black, white and gray that we've seen in the past recent years are quietly leaving room to different shades of sand, taupe and beige that add softness. But we sometimes need a brighter color element that will give a pop to the whole space while complementing the decor.
We asked four of our kitchen designers what was their favorite accent color and what materials they would choose for their own kitchen cabinets.
Matilda
Most definitely orange! The color of the Golden Gate Bridge in San Francisco, California, city of sun and happiness! The ideal material would be lacquered MDF, because with lacquer you can create or mimic any desired color.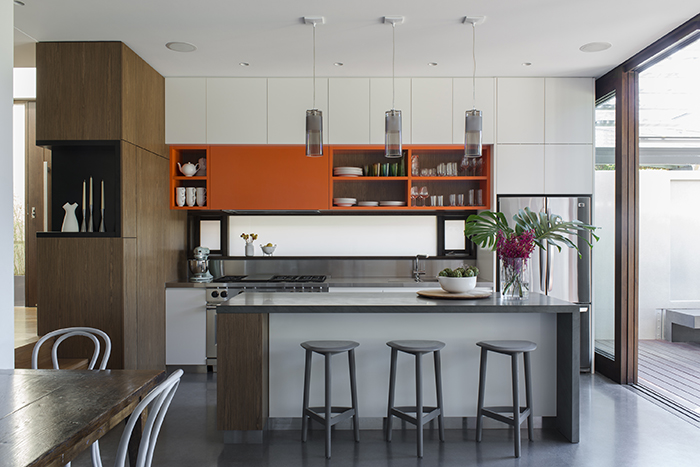 Source: D'Cruz Interior Design
Alex
I love the simplicity and versatility of the blue color. Whether it's dark or light, there will always be room for a touch of blue in my kitchen.
Source: Cantilever Interiors
Julie
Personally, my favorite material is rosewood and if I would dare a bold color for my own kitchen, it would have to be a dark but bright pink arranged with delicate black and white! The current trend goes towards more natural colors, but in my opinion the dark and dusky environments will be back in about two years.
Source: Allie NYC
Alexandra
My favourite cabinet material…that's hard to choose! I would tend to go with wood in all its essences and colors. Whether rustic, gnarled or veined, a little wood can go a long way by giving a more natural look to the space and allowing us to play with textures within the room composition.

If I was gutsy enough to add a bold color to my kitchen cabinets, it would have to be bright green! Paired with black and another wooden material, I find this combination very refreshing. As of right now, I would say that 99% of kitchens tend to be in a neutral shade and when we see a more vibrant color, it's usually because we used a brighter wood essence, like walnut.
Source: Camille Styles
What about you? Would you dare to add a bright accent color in your kitchen?
Ateliers Jacob is an innovative company, specialized in kitchen and bathroom cabinet design & manufacturing since 1987.

The talent and creativity of our kitchen designers, as well as their desire to satisfy customers, go well beyond experience and expertise.
Latest posts by Ateliers Jacob Calgary (see all)